Andrei Coste
Soundtrack-ul de astăzi vine de la un film care, la fel ca și La Grande Bellezza, are un rating de 92% pe Rotten Tomatoes și a fost una din cele mai plăcute surprize cinematografice din ultimul an pentru mine.
Frank e un film dubios în care Michael Fassbender (care a jucat în X-Men, 300 și o tonă de filme mainstream) joacă rolul unui personaj inspirat de Chris Sievey (un muzician și comediant englez care în anii '80 a creat un personaj numit Frank Sidebottom) care poartă tot timpul o mască ruptă din desene animate pe față și încearcă să facă muzică muzică complicată pe care doar el s-o înțeleagă. Dar filmul nu este despre Frank, este despre creație, despre sacrificii și despre integritate artistică. Și-acum, serios vorbind, cât de tare e să-l auzi pe Michael Fassbender încercând să cânte art-rock și alte hipstereli de SXSW?
Frank ne lovește cu o coloană sonoră foarte schizofrenică. În multe momente ești învăluit de sonorități noise-rock cu accent foarte mult pe experimentalism ca după aia să-ți aducă în prim plan niște muzică incidentă care s-ar potrivi mai degrabă în reclamele alea foarte albe de la Apple. Stephen Rennicks, compozitorul principal, a făcut o treabă excelentă cu score-ul filmului, nu de puține ori dându-mi impresia că aud ceva compus de Danny Elfman (unul din cei mai importanți compozitori de muzică de film, omul care-a făcut tema principală de la The Simpsons și a scris muzica la mai toate filmele lui Tim Burton).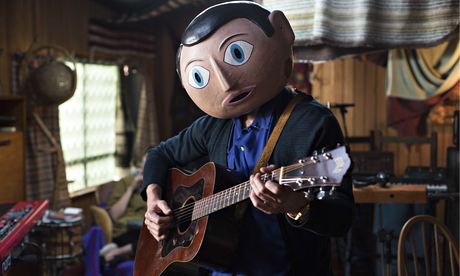 Mi se pare incredibil de inteligent conceptul folosit în aranjarea acestei coloane sonore. E ca și cum ai asculta o trupă cum experimentează în sala de repetiție și doar spre final primești ceva ce pare vag finisat. Piesa care închide soundtrack-ul e "I Love You All". V-am mai zis cât de tare mi se pare faptul că domnul Fassbender cântă rochereală hipsterească? Am murit un pic pe dinăuntru în momentul în care l-am auzit cântând melodia menționată mai sus. După filmul ăsta s-a născut și The Soronprfbs, care era trupa din film. Faptul că ei au și cântat live la The Colbert Report (și da, sunt actorii principali din film) și ocazional mai fac și câte-un secret face din trupa asta semi-fictivă un micuț dream-team care continuă oarecum povestea din film (unde ei nu erau în stare să susțină vreun concert sau să înregistreze ceva).
Dacă aveți chef de o experiență live direct de pe canapea și vreți să vă delectați cu o combinație schizofrenică de art-rock, muzică de film și mult experimentalism vă recomand să ascultați soundtrack-ul ăsta. Se prezintă foarte bine, sună foarte bine și "I Love You All" o să vă intre în cap mai ceva ca matematica de clasa a II-a.
Comments
comments